Now, when playing on social media, we will see another type of water sport that is getting popular. That is SUP Board, which is full name Standup Paddle Board. It is a sport that was developed from surfing with paddles as equipment. To allow it to move without relying solely on waves. And can play anywhere, including seas, dams, rivers, which is different from surf that has to play only in the sea. Call it a chill activity that can be played on any occasion. At the same time, it is also an exercise in the body. Calls to sweat lightly, plus it clashes with the cool wind, good for the heart.
1. SUP Station Thailand, Pathum Thani Province
The club house offers a full range of SUP sports, including open new experiences, paddle exercises. or organize a hangout event In the midst of a chill atmosphere, next to the Chao Phraya River, there will be a teacher to teach before getting into the water and teach in a friendly, easy-to-understand conversation. Guarantee that it's fun and it's definitely fun with this sport.

Details : Rent a board for 500 baht / 2 hours
Phone : 092 427 9522
Facebook : SUP Station Thailand
2. Paddle More Thailand – Paddle SUP Kanchanaburi, Kanchanaburi Province
Enjoy the experience of playing SUP Board, a popular water sport. Enjoy exercising while enjoying the beautiful view of the Bridge over the River Kwai. as well as see the beauty of the Kwai Yai River to the front of the Yuan temple (Wat Thavorn Wararam) and then enter the Ban Yang Canal. This is a distance that is not very far and does not focus on speed. Including throughout the activity, there will be staff to take care of and take photos along the way.

Details: 700 baht per person, open 2 rounds per day, which is the morning round 07.00-10.00 hrs. The distance is approximately 4.8 kilometers and the evening round from 15.30-18.30 hrs. Approximately 4 kilometers
Telephone number : 085 299 8329
Facebook : Paddle More Thailand – Paddle SUP Kanchanaburi
Website : paddlemorethailand.com
3. Sup-Rayong, Rayong Province
Anyone who wants to try SUP Board in the midst of a beautiful view, I recommend you to stay at Baan Rim Dam – Khun Da Kandu Garden, besides providing comfortable accommodation, here are also popular activities such as playing SUP Board, full of views along the Khao Chuk Reservoir, Rayong Province, ready for you to enjoy the good feeling. with a group of friends There are also beautiful pictures to put on social media to be popular according to the trend.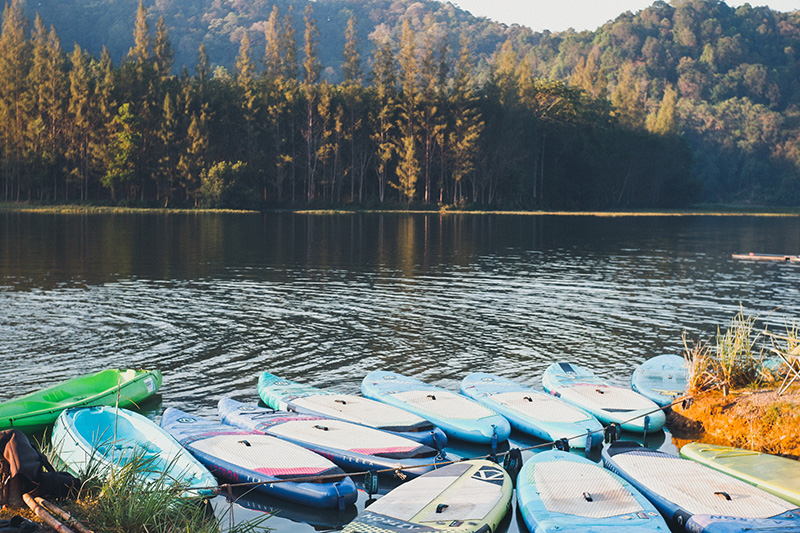 Photo from Facebook. Travel with teachers.Details : Play SUP Board 250 baht per hour, swim and paddle for free.
Phone number : 096 978 5645
Facebook : Sup-Rayong.
4. Chanthaburi Province
Anyone who wants to absorb the beauty of Bangka Chanthaburi Province A tourist attraction that is still full of stories about the way of the community. Simple nature, gardens, rice fields and mangrove forests, where you can experience these atmospheres through SUP Board activities. Suitable for all ages Let's try to experience these together.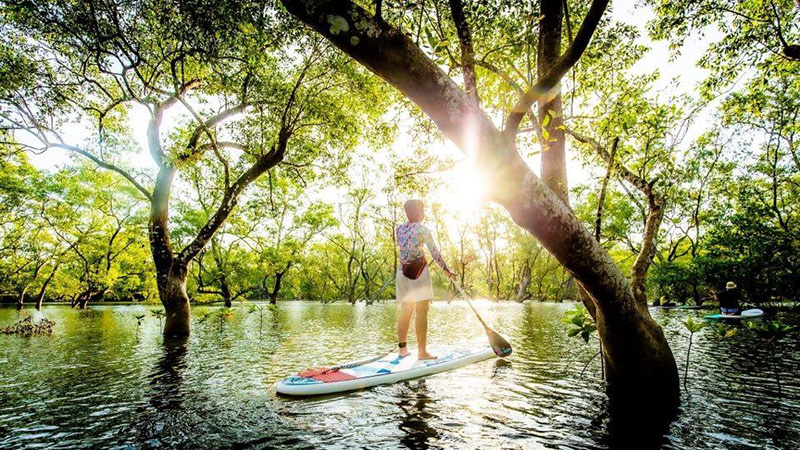 Details

Paddle package 800 baht per person, period according to water level that can do activities

– Morning SUP
– Day SUP
– Sunset Trip

Paddle package with 1 meal 900 baht per person

– SUP with Meal

All day SUP : 1,800 per person Baht

All-day package with 2 meals (07.00-18.30 unlimited time) or according to the water level that can do activities)

Private Portrait SUP : 5,000 baht

Private package Focus on photography, including one or two meals, at the appropriate time and water level. Get only one group Focus on taking photos of no more than 2 people or family, father, mother and child.
* Please make an appointment in advance. according to the time of high tide – low tide Accepting a limited number of not more than 7 people / trip (except Private Portrait, accepting only 1-2 people or 1 family only)

* In the case of children under 13 years old, only groups are allowed. Not accepting group jams with other people

* Child rates (sitting with parents) Paddle package 400 baht Package with food 450 baht In the case of paddling by yourself (1 person / 1 board), the service fee is the same as a normal adult.

* If the customer has their own board Request to join the trip. There is a service fee of 300 baht / 1 board

(with food, add 150 baht, total service fee 450 baht / 1 person). This rate includes staff service fees, venue maintenance fees. and drinking water-snacks

Facebook: SUPscribe Chanthaburi
5. Million Beach Koh Kood, Trat Province
A cafe to sit and chill with a SUP Board to play with. It is not easy to find such a beautiful location. The shop is located in the S-beach resort, no matter what time of day you come to play. You will see the beauty of the different atmosphere, clear water, beautiful nature, stylish SUP paddles, after playing, gradually come up to eat snacks and delicious water as a final step. Let me tell you that it's very cool.

Details : Rent a board for 300 baht per hour.
Opening-closing time : Every day from 11.00-18.00 hrs.
Phone : 099 006 2806
Facebook : Million Beach Koh Kood
6. Prachuap Khiri Khan Province
Paddle SUP Board to chill while enjoying the beautiful view at Ao Manao, Khlong Wan, Nikhom Dam and Prachuap City. Another activity that both children and adults can enjoy. Don't worry about service. Because here there will be a team to teach us how to row, sit and stand. Even without skills, you can play comfortably without worry. Enjoy the view of the sea and enjoy nature to the fullest.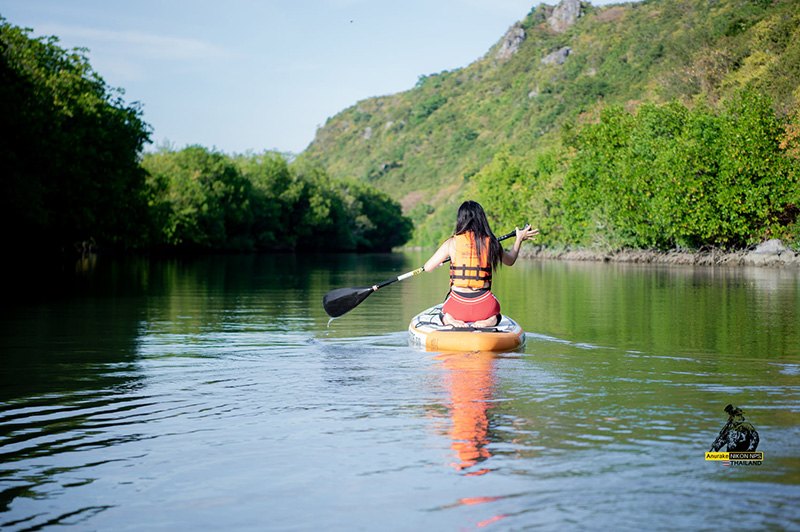 Details

          Play SUP Board at Ao Manao/hour 300 baht/hour  
          at Khlong Wan 400 baht/hour
          in Prachuap Province/500 baht/hour
        at Nikhom Dam/750 baht/hour and per hour 200 baht.

          Phone number: 092 648 6799, 080 657 9339.
          Facebook: SUP BOARD Prachuap.
7. Mittao SUP Board Chumphon
For those who go to Chumphon Beach and want to find fun activities to do, recommend SUP Board, a water sport activity that is becoming popular right now. Tourists can enjoy the beautiful Chumphon sea such as Sairee Beach, Nong Yai and Thung Wua Laen Beach. It can be said to be full of real millions of views. You can't find it anywhere else.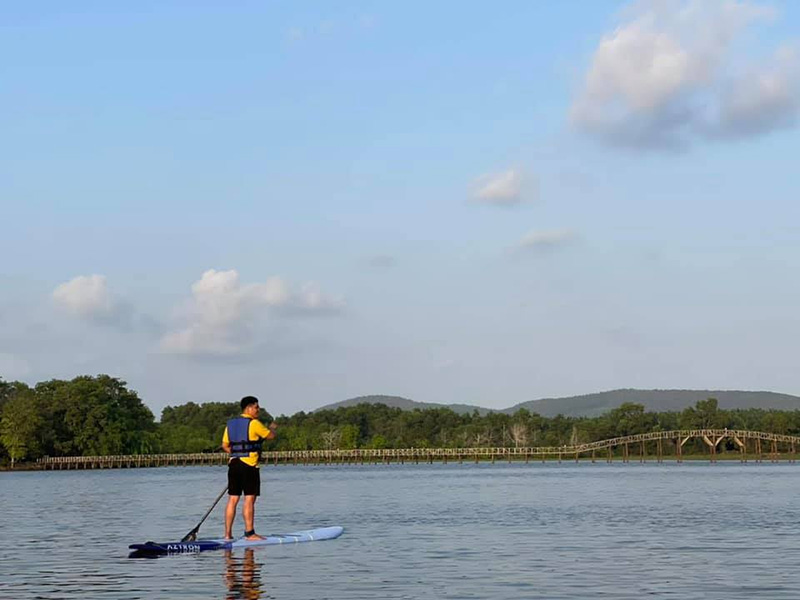 Details: The first hour is 350 baht, the second hour is 200 baht, the next hour is 100 baht.
Phone number: 063 080 5266
Facebook: Mittao SUP Board Chumphon.